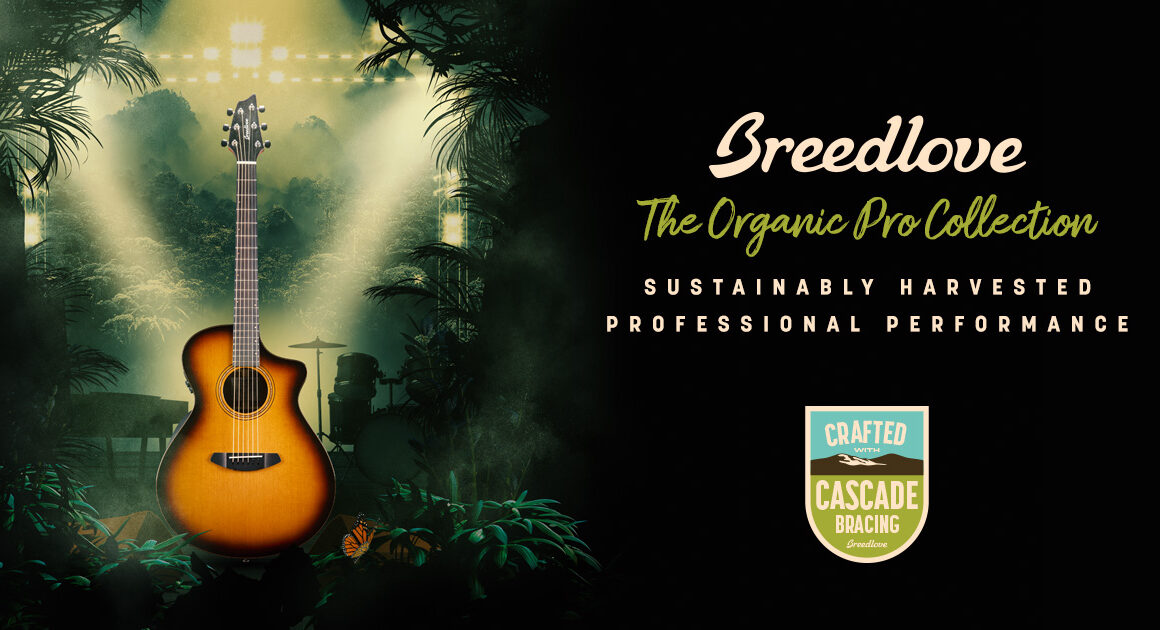 BEND, Ore. (Nov. 1, 2022) — Breedlove Guitars is pleased to announce their new acoustic Organic Pro Collection. With the new Organic Pro Collection, sustainability and accessibility come together in a solid tonewood guitar for the professional musician at an accessible price.
Breedlove's pursuit of acoustic excellence starts in their Custom Shop in Bend, Oregon. All the innovative research and development comes from the work they do, the creations they build, and the lessons they learn making custom guitars in the USA. But those benefits aren't confined to their exclusive, top-tier custom builds. They apply the knowledge their master luthiers and designers gather across the entire Breedlove catalog — and you can see that they combined the art, science, and ethos of their legendary American ingenuity into the redesigned Organic Pro Collection.
Knowing they had built the first affordable, sustainable solid tonewood acoustic guitars on the market, Breedlove wanted to make them sound even closer to the showpieces from their Custom Shop. They found the answer through years of hand-voicing their USA-built instruments, meticulously sculpting the bracing on each guitar, and compiling all the data for each and every instrument they built. The updated Organic Pro Collection features their exclusive Cascade Bracing, which allows all their affordable production guitars to achieve consistent target frequencies resulting from the research and development process of Sound Optimization.
Next, they updated the electronics to effectively capture the clear and outstanding sound quality of these precision-built guitars. Breedlove partnered with Fishman to bring sleek and understated professional sound right at your fingertips. All new Organic Pros include Fishman Flex Plus-T electronics. The result is an extensive line of guitars that look, feel, and sound closer to a custom build than any other acoustic on the market with a much more approachable price tag.
Breedlove's new Organic Pro Collection fills a couple significant gaps in the market. Hobbyists and amateur players can step into an all-solid tonewood guitar without paying solid wood pricing. Gigging musicians can afford to put them through the rigors of the road and still sound like they're playing treasured collection pieces. Everyone who buys one of these guitars can also feel good about being kind to our world's forests because Breedlove will not use any clear-cut tonewoods. Ever.
"Protecting the world's forests and choosing fair trade practices through my purchases is important to me," states Angela Christensen, head product designer at Breedlove. "Now with the new Breedlove Organic Pro Collection, there is finally an option that most discerning musicians can afford, without compromising on looks and features."
All Solid Tonewoods. Fully Sustainable Sources. Professional Performance. Affordable Prices. The new Organic Pro Collection.

About Breedlove Guitars:
For more than 30 years, Breedlove has been on the forefront of guitar innovation. With the goal of superior sound and sustainable exotic tonewoods, Breedlove has followed the lead of musicians and builders, designing trusted, quality instruments for a new era at their home in Bend, Oregon.
For more information about Breedlove, please visit their website and follow Breedlove on Facebook, Instagram, and Twitter.
###